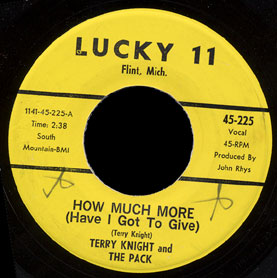 Terry Knight
(
April 9
,
1943
-
November 1
,
2004
), born
Richard Terrence Knapp
, was an
American
rock and roll
music producer
,
promoter
,
singer
,
songwriter
and
radio personality
.
Born in
Lapeer, Michigan
, Knight's career began as a
Detroit
DJ
in 1963 when he replaced Dave Shafer as "Jack the Bellboy" on WJBK, coming to Detroit from
Flint, Michigan
's legendary Top 40 rocker
WTAC
. The following year, he moved across the river to
CKLW
in
Windsor, Ontario
. Arguably the first American DJ to air
the Rolling Stones
, he hosted a legendary late night show from high-powered CKLW, bringing the
British Invasion
to the Northern states. He was awarded the honorary title of "The Sixth Stone" for his early support of the Stones. By the end of 1964, however, Knight had left CKLW and the radio business, intending to pursue his own career in music.
Around 1965, Knight fashioned his own songwriting and performing career in
Flint, Michigan
, as the front man for
Terry Knight and the Pack
. With his band, Knight recorded a handful of regional hits for local Lucky 11 Records, including his self-penned generation gap anthem "A Change On The Way," as well as scoring two national hits, a tasteful cover of
the Yardbirds
' "Mister, You're A Better Man Than I" and his ultra-lounge reading of
Ben E. King
's "I (Who Have Nothing)." TK&TP left behind two long-playing garage classics before breaking up in 1967. (
Brownsville Station
honored TK&TP with a cover of the Knight-penned "Love, Love, Love, Love, Love" on their '73 album
Yeah!
)
In '67, Knight attempted a solo career as a singer and staff producer with the terminal Cameo-Parkway label, with limited success. He produced and wrote a handful of tracks by other artists, including garage legends
? & the Mysterians
and the easy-listening International Pop Orchestra. He also scored music for the
20th Century Fox
noir classic
The Incident
. In '69, Knight secured a contract with
Capitol Records
where he released a 45, "Saint Paul," which contributed to the "
Paul Is Dead
" hoax. Although his version failed to rise above
Billboard's Hot 100
, the song provided
New Zealand
singer Shane the best-selling single of the 1960s in his native land.
From there, Capitol retained Knight as the manager and producer of
Grand Funk Railroad
, the largest-selling rock band of 1970. His Beatlesque production on GFR's "Closer To Home" transformed the raucous concert attraction into an acclaimed recording group and radio staple. He also discovered and produced the Fort Worth, Texas group
Bloodrock
, who hit the Top 40 in early 1971 with the unlikely death anthem "D.O.A." [Dead On Arrival].
Between 1970-72, Knight was the most successful - and controversial - promoter in the rock business, racking up an unprecedented eight
gold albums
while simultaneously waging a war of words with
Rolling Stone
.
In 1972, both Grand Funk Railroad and Bloodrock severed their professional relations with Knight, the former quite acrimoniously. He was dropped from Capitol soon after, and began his own label, Brown Bag Records, releasing albums and singles by
Mom's Apple Pie
, John Hambrick,
Wild Cherry
and Faith. None of them found commercial success and, in late 1973, Knight retired permanently from show business. He associated with super model
Twiggy
and raced cars with film star
Paul Newman
in the mid-70s before succumbing to the cocaine addiction that claimed his later years.
Terry Knight was murdered at the age of 61, stabbed multiple times in a fight with his daughter's boyfriend in their shared apartment in
Temple, Texas
. On November 26, 2005, his killer, Donald A. Fair, was sentenced to life in prison. Terry's daughter, Danielle, survives him.